Commercial Washing Machine Lease & Rental
With over 14 years experience in providing and maintaining commercial laundry and dishwashing equipment in many different market environments.
Leasing and fully maintained rental are very popular ways of managing your commercial laundry equipment, washing machine leasing starts from just £59 plus vat per month and dryers at £42 plus vat, rental including  full maintenance and annual servicing from £89 plus vat for  a commercial washing machine and £65 plus vat for a tumble dryer.
Machines and installation are tailored to your business, starting with an on site survey to assess, required capacity, available space, access and power and type of use.
For more information or a quotation, please call, email or fill in an online enquiry, we will get straight back to you.
50 bed care home rental example:
Schulthess W130 washing machines and Primus DX13 tumble dryers – £689.00 plus vat per month*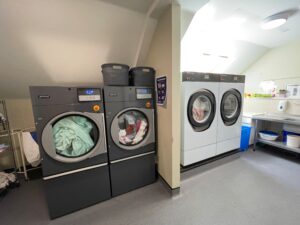 *subject to status and connected to existing services